Just a quick update as to what we have done over the past week or so...
not much.
However, we did play a gig Thursday at our regular haunt The Grapes in Sheffield, with our now good friends Standup Guy from Ireland, new Sheffield band Rachmanite and Pupilar from Leeds (otherwise known as Kev).
This was a weird gig, lots of friends there but not as many as we're used to, I suppose that is what comes of playing too many gigs in our hometown in the space of a week or so, but it was still an odd one.
Pupilar as far as I can tell fared quite well, his brand of ambient, yet engaging noise and textures via a laptop and guitar combined with his projections that moved in tandem with the sound looke great for the short time I saw it ( I was on the door for most of the night).
Rachmanite sounded great from outside apart from their clipped end of the set, apparently they played badly according to drummer Podge, not being able to hear anything onstage apparently being the problem, shame as I love their demo and from what I could tell, it sounded great, no doubt we'll all catch them on a better day soon, little plug, this is coming up...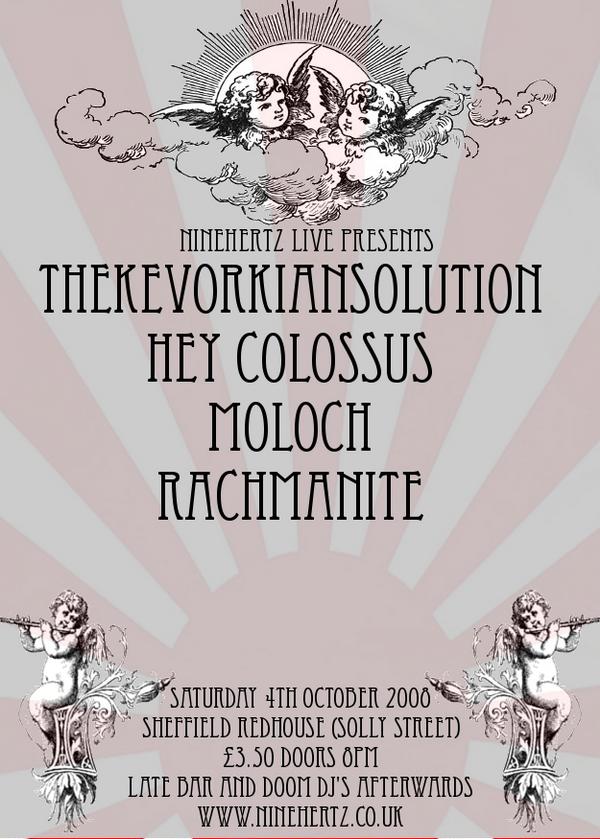 This should be amazing, Rachmanite, Moloch (who are amazing), Hey Colossus (always a pleasure) and The Kevorkian Solution (who have come back after a massive break sounding completely different and all the more interesting for it!) it should be a doozy.
Anyway, back to the gig, Standup Guy were crushing, we played with them in Dundee and they were ultra-heavy there but this was something else, they are very heavily influenced by Neurosis thats for sure, but they bring it all together with this vortex-like groove that never really ends during their set, they were pleased to play to an apprieciative crowd I think, their tour has been an absolute shitter it seems, so glad they had a last good night of it. We played last as we wanted people to stick around for SuG, and people ended up staying for us, which was nice. We actually used Kev's projector to show a film of farming stock footage behind us and I think it worked really well, I kept getting distracted by threshers, potatoes and shots of fields that all look the same, we really need to invest in one I reckon, it added to our whole show and I think gave us a little bit more confidence to rock out a bit. We didn't sound our best this gig, but it was more about the aesthetic it seemed, a few people saying they'd enjoyed it more than our Mirimar Disaster launch or our Team Tall weekender appearances, all good.
Onwards and upwards then, practice this week and next it seems, then we should be playing this-
and maybe Leeds, we shall see, apparently the Melvins are inconsiderately playing the same nigth we've had a show booked on for months, may well be rescheduled.
Thats all really, expect regular updates as and when we have news!
Mike.